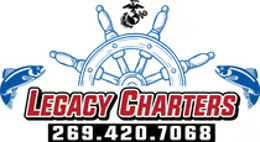 WE are a veteran owned/operated charter service proudly slipped in the NorthShore Marina(Slip D-9).
Just minutes away from Lake Michigan. We typically are on the big water in under 15 minutes.
To finalize your trip reservation, a valid credit card number for Legacy Charter Services, LLC to retain on file until after your trip is finished is required. You must include the 16 digit card number, expiration date, 3 digit CVV, and billing zip code.
We accept cash, check, Venmo, PayPal, or major credit cards (2.5% transaction fee for credit card transactions).
NOTE: No shows the day of your scheduled trip and or cancellations within 7 days of your scheduled trip will result in full balance still being due and your credit card will be charged.
Cancellations over 7 days in advance will result in a $200 cancellation fee being charged.
If a trip has to be canceled due to motion sickness, we will not refund the cost of your trip.
We are all out on the water to have fun! Your safety, your enjoyment, and catching fish(which is NOT guaranteed) are our priorities, in that order. Legacy Charters allows passengers to enjoy alcoholic beverages, in moderation, during their trip. Any trip can, and will be canceled, if passengers become 'disorderly', WITHOUT REFUND.
The Captain will exercise his/her Stop Work Authority and cancel any trip if he determines that any passenger on board threaten the safety of the crew, or other passengers while on board, or themselves.
Please make us aware of any potentially serious or life threatening medical conditions that anybody in your party may have.
We can fish several miles away from port and weather depending, it can take up to 1 hr to return to safe harbor and or the dock.
The Captain is certified in CPR/First Aid, however it is in the interest of safety that we request you tell us of any existing medical conditions that could potentially be serious or life threatening.
Absolutely no controlled substance of any sort are allowed on the vessel. Any drugs will result in a canceled trip with no refund.
Capt. John Horton
269-420-7068
captain@legacychartermi.com
18275 Berwyck St.
Spring Lake, Mi 49456